Blog
Web Agency Bootcamp Bristol
May 25, 2017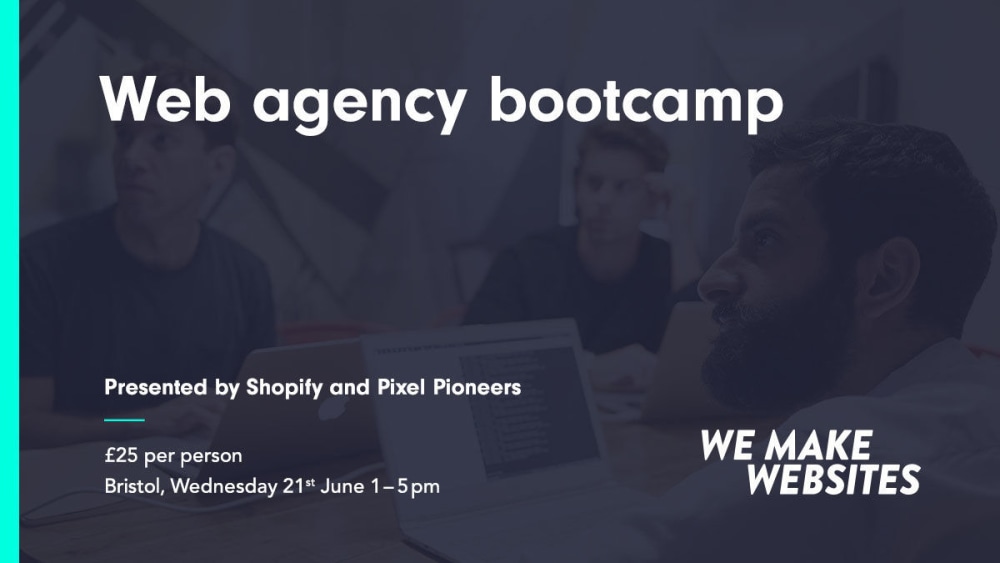 My long time friend and renowned ex-editor of net magazine Oliver Lindberg recently announced a new conference series called Pixel Pioneers. The first event takes place in Bristol on Thursday, 22 June 2017 at the M Shed.
The day before we, as in Shopify Partners, decided it would be fun to team up with Pixel Pioneers to host a workshop pre-event called "Web Agency Bootcamp". This four-hour workshop will be hosted by WeMakeWebsites founders Piers Thorogood and Alex O'Byrne and is dedicated to helping you grow your freelance or web agency business.
WeMakeWebsites is the UK's leading Shopify design agency. Over the last seven years they have moved from building websites for anyone to specialising in ecommerce for high growth startups for clients across the world. The workshop will cover four main areas:
Getting started
Marketing and growth

The sales process

Account and project management
This workshop is ideal for anyone who is thinking about moving into the freelance market or starting an agency, as well as agency owners looking to expand their team or those of you looking for ways to improve your business practices.
Who Should Attend?
Freelancers
Agency owners
Anyone interested in starting their own web design business
When and Where
Wednesday, 21 June 2017 1pm—5pm
The Gallery Space The Island Bridewell Street 1st floor Bristol BS1 2LE UK
Tickets
Tickets are £25 inc VAT and are available from the Pixel Pioneers web site.
This article was published by Keir Whitaker on May 25, 2017 in the Shopify category. You can view the blog archives and subscribe to RSS updates. Discuss this article with me by email.